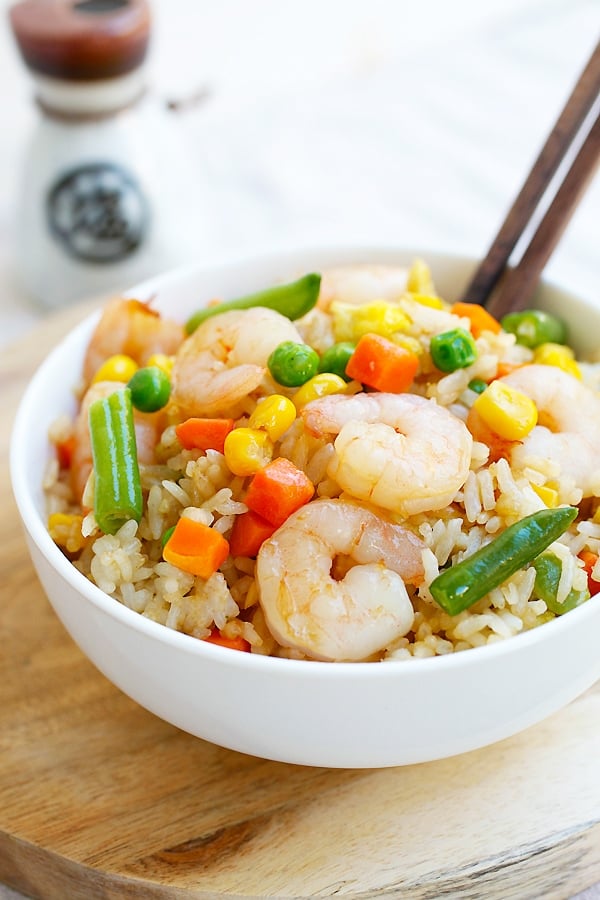 Chinese Shrimp Fried Rice
Shrimp fried rice is one of the most popular Chinese recipes in my cookbook "Easy Chinese Recipes" (best-selling Chinese cookbook on Amazon) and I am now sharing an updated version with feedback from my readers in the past few years.
Shrimp fried rice is one of the easiest fried rice recipes, and maybe even the most delicious.
Fried rice can be plain, but with shrimp added to the ingredients, a regular fried rice becomes so much more delicious and mouthwatering.
Other Recipes You Might Like
How Bad Is Shrimp Fried Rice for You?
This shrimp fried rice recipe packs 408 calories per serving, but it is a wholesome and hearty meal that is sure to fill you up. If needed, you can change the white rice to brown rice to make a healthier meal.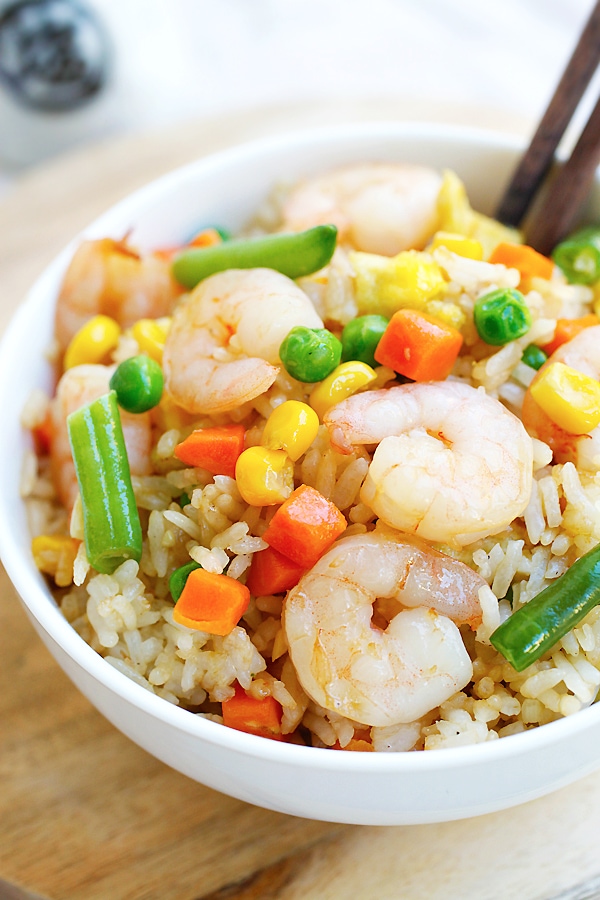 Cook's Tips
The best fried rice is made with leftover rice that is kept overnight in the fridge.
The moisture content of rice evaporates overnight, causing each strand to loosen up and not stick to one another. This makes the fried rice extra fluffy, as you don't want fried rice that is lumpy.
For the seasonings, the best fried rice is usually made with fish sauce, which can smell pungent and overpowering if you are not used to the ingredient.
Hence, I have updated this recipe so that we are using Chinese oyster sauce, which is a fantastic flavoring sauce without the funky smell.
For the eggs, if you are a beginner, I suggest you to cook the eggs first and then add it onto the fried rice.
Once you get a hang of stir-frying, you can just add the eggs directly into the wok or skillet. Push the rice to one side and cook the eggs, and then stir to combine well with the fried rice.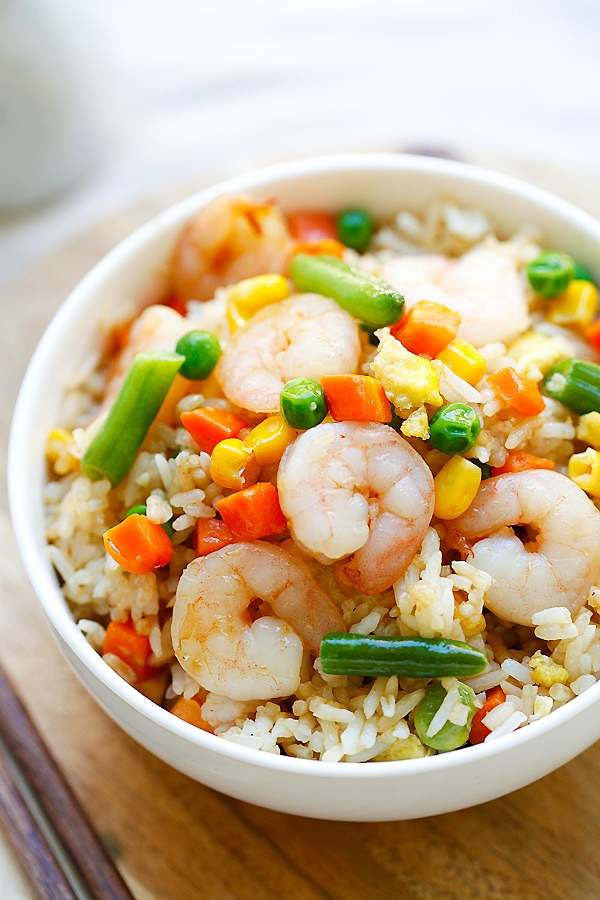 Best Shrimp Fried Rice
Without further ado, here is my easy and delicious shrimp fried rice recipe that is guaranteed to please the entire family.
The next time when you have a bunch of leftover steamed rice from restaurants (always pack the unfinished steamed rice from Asian restaurants home), make this at home. It's a convenient meal that takes about 20 minutes.
How Long Is Shrimp Fried Rice Good For?
Storing the shrimp fried rice in an airtight container in the refrigerator will allow the rice to be stored for about 5 to 7 days. So make this recipe tonight!
How Many Calories per Serving?
This recipe is only 368 calories per serving.
What Dishes to Serve with This Recipe?
For a wholesome meal and easy weeknight dinner, I recommend the following recipes.
Shrimp Fried Rice
Shrimp fried rice – the easiest shrimp fried rice recipe, takes only 20 mins from prep to dinner table. Healthier and a zillion times better than takeout.
Ingredients
3

cups

leftover steamed rice

chilled in fridge overnight

3

tablespoons

oil

2

large

eggs

lightly beaten

2

cloves

garlic

minced

8

oz.

shrimp, shelled and deveined

1

cup

frozen mixed vegetables

defrost

1

tablespoon

soy sauce

1

tablespoon

oyster sauce

3

dashes

ground white pepper

or black pepper

salt

to taste
Click Here for Conversion Tool
Directions
Defrost the rice. Use the back of the spoon, gently break up the lumps. Set aside.

Heat 1 tablespoon of the oil in a wok or skillet over high heat and cook the eggs first. Use the spatula to break the eggs into small pieces.

Reheat the wok or skillet with the remaining oil over high heat. Once the oil is heated, add the garlic and stir-fry until aromatic or slightly browned. Add the shrimp. Once the shrimp starts to cook, add the mixed vegetables and do a few quick stirs.

Add the rice and stir-fry continuously. Add the soy sauce, oyster sauce, and pepper and continue to stir fry until the shrimp are completely cooked, and the rice are lightly toasted and well "fried." Add the eggs, stir to combine well with the rice. Dish out and serve immediately.
Nutrition Facts
Shrimp Fried Rice
Amount Per Serving (2 people)
Calories 368
Calories from Fat 243
% Daily Value*
Fat 27g42%
Cholesterol 306mg102%
Sodium 1496mg65%
Carbohydrates 97g32%
Protein 31g62%
* Percent Daily Values are based on a 2000 calorie diet.