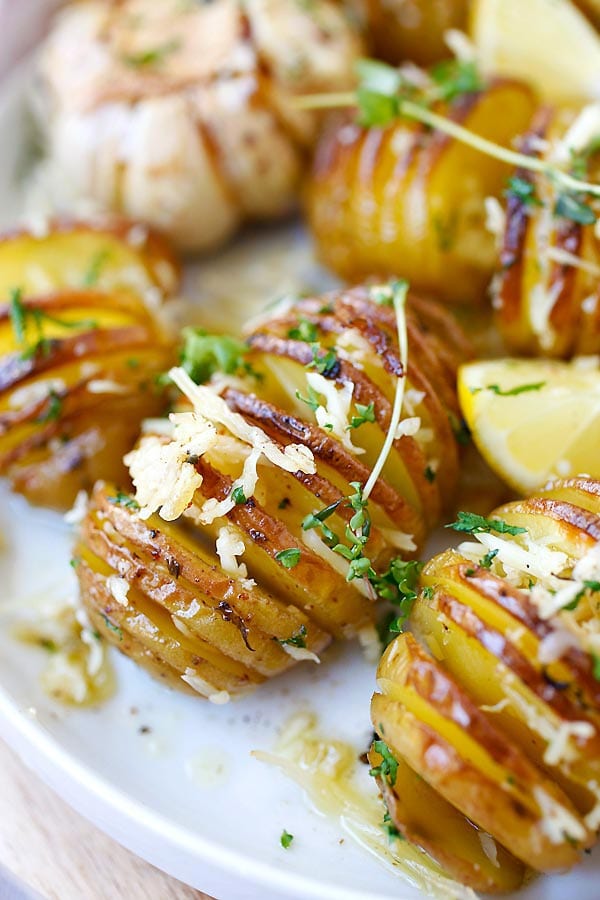 Ever since I started making the garlic herb roasted potatoes I learned from Gratinee, my little boy has been asking for the dish almost every day.
He used to ask for butter sauteed potato and mushroom, but not anymore. He loves those baby or new potatoes that are sliced horizontally, as he could peel each slice off, play with them before eating.
And I am happy to make them whenever he asked for it, experimenting with different variations every time.
Other Recipes You Might Like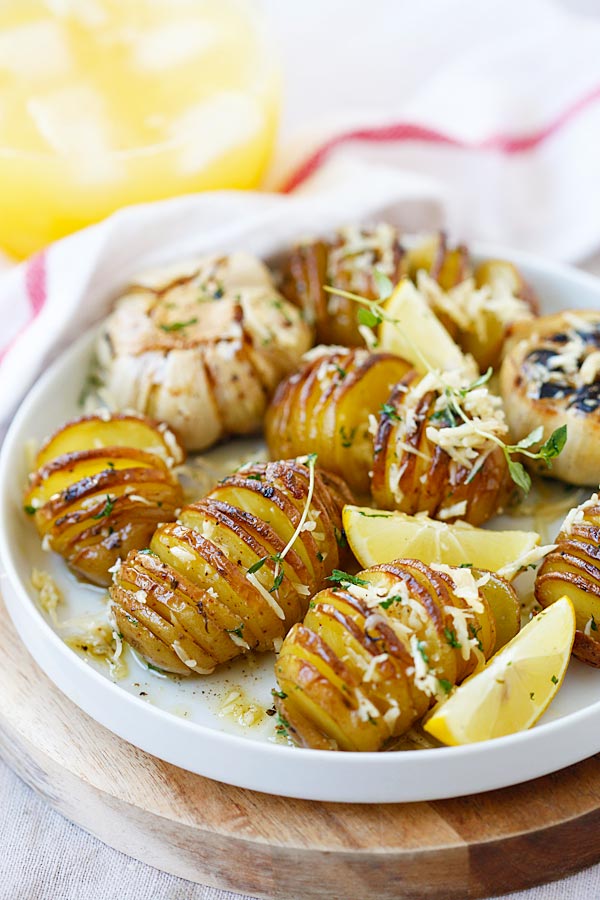 Parmesan Roasted Potatoes – the easiest and BEST roasted potatoes with Parmesan cheese, butter and herbs. SO good you'll want to make it every day!! | rasamalaysia.com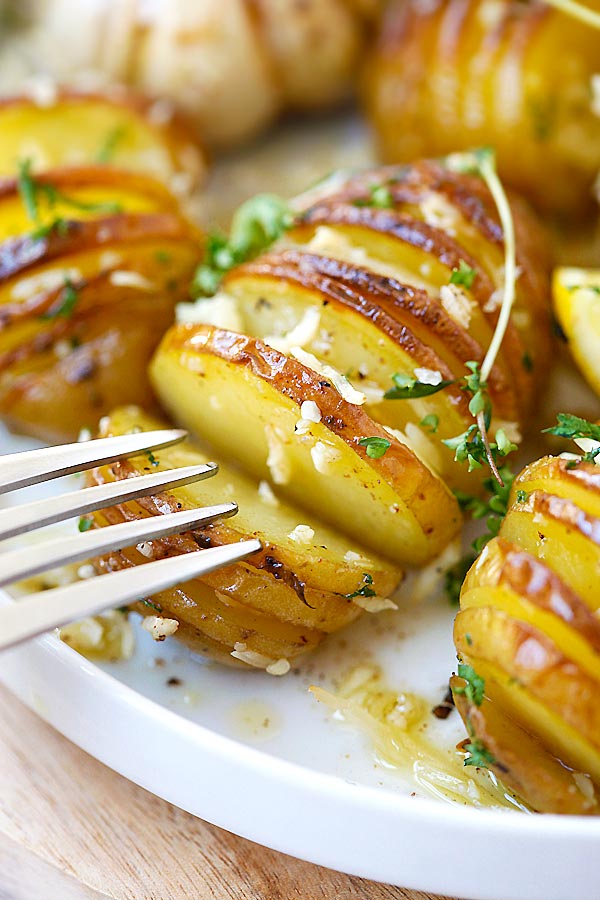 One of the variations I tried was cutting down on the thyme since little G doesn't quite like the taste and aroma of thyme. All kids love cheese so I topped the potatoes with Parmesan cheese.
The end result is this AMAZING roasted potatoes that takes practically 10 minutes active prep time in the kitchen. The roasting takes about 1 hour to get to the desired tenderness, but in that one hour, you can just sit in front of TV or do your chores when the oven does it magic.
Best of all, there is only one roasting pan to clean!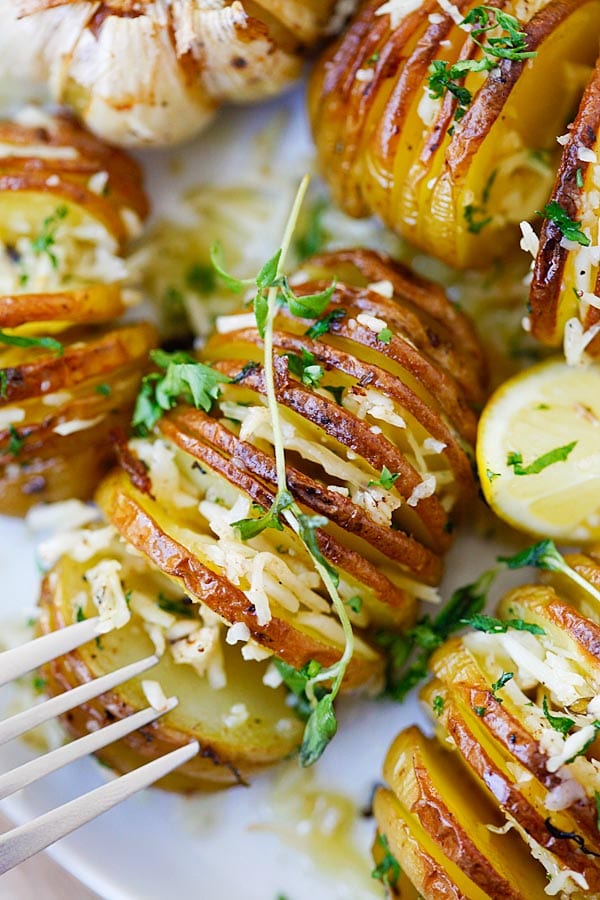 For the potatoes, new potatoes or baby potatoes are best for this Parmesan roasted potatoes. These smaller potatoes have thinner skin and when you roast them in the oven, the skin becomes crisp and really great to the bite.
There are usually two kinds of baby potatoes in the market—golden skin and red skin. I prefer the former, they seem to taste better in my opinion, plus after roasting, they turn golden brown in color!!
Try this parmesan roasted potatoes recipe, it's a great side to serve for the entire family. It's so good that even the pickiest eater would love them!!
How Many Calories per Serving?
This recipe is only 460 calories per serving.
What Dishes to Serve with This Recipe?
For a wholesome meal and easy weeknight dinner, I recommend the following recipes.
Parmesan Roasted Potatoes
Parmesan Roasted Potatoes – the easiest and BEST roasted potatoes with Parmesan cheese, butter and herbs. SO good you'll want to make it every day!!
Ingredients
1 1/2

pounds

baby or new potatoes

1/4

cup

olive oil

2

tablespoons

melted butter

3

heads garlic

top trimmed

1/2

tablespoon

chopped parsley leaves

1/2

lemon

cut into wedges

2-3

sprigs thyme

1/4

teaspoon

salt

1/2

teaspoon

cracked black pepper

1/3

cup

grated Parmesan cheese
Click Here for Conversion Tool
Directions
Preheat oven to 350°F (176°C). Cut slits on the potatoes, do not cut through. Place the potatoes in a roasting pan and brush with the olive oil and melted butter. Add the garlic, parsley, lemon and thyme in the pan, in between the potatoes. Sprinkle with salt and black pepper.

Roast the potato for 1 hour, basting the oil mixture at 30 minute interval. After 1 hour, add the Parmesan cheese on top of the potatoes, sprinkle evenly on top. Turn off the heat of the oven, and leave the potatoes in the oven for about 5-10 minutes, or until the cheese is melted. Serve immediately.
Recipe Notes
Don't discard the garlic, they are so delicious after the roasting. Eat the potato and with the garlic.
Nutrition Facts
Parmesan Roasted Potatoes
Amount Per Serving (3 people)
Calories 460
Calories from Fat 261
% Daily Value*
Fat 29g45%
Cholesterol 30mg10%
Sodium 380mg17%
Carbohydrates 43g14%
Protein 9g18%
* Percent Daily Values are based on a 2000 calorie diet.