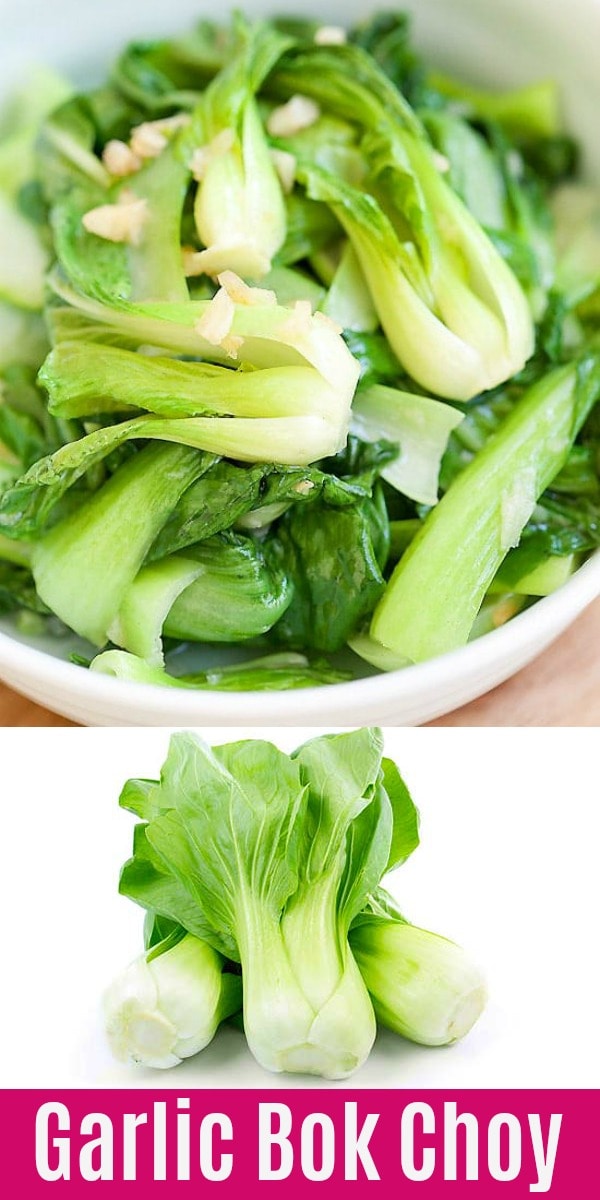 What Is Bok Choy?
Bok choy (白菜) is a Chinese vegetable in the cabbage family with white stems and green leaves. There are two types based on their size: regular and baby bok choy.
They are increasingly popular and you can find them at most supermarkets and food stores.
Other Recipes You Might Like
Health Benefits
According to Eating Well Magazine, June 2018 issue, this Chinese cabbage has the following benefits:
It ranks second on the Center for Disease Control and Prevention's list of 41 powerhouse fruits and vegetables.
It's loaded with sulforaphane and carotenoids. It protects cells from damage, improve immune system and block cancer formation.
One cup of cooked bok choy delivers more than half of the daily recommended intake of vitamin C.
Bok choy recipe is so easy to make and takes only a few very simple ingredients. They have many health benefits, high in nutrition, vitamins and low in calories.
You can serve them raw, stir fry, saute, roast, steam, grill, braise, make kimchi, salad or soup.
You can also cook them with chicken, shrimp, beef, mushroom or tofu. There are so many ways to prepare them.
How to Cook Bok Choy?
Stir-fry on high heat for crunchy and crisp texture. Do not overcook.
The leaves and stems should retain their a nice glossy color after cooking. The leaves shouldn't turn into dark green or purple.
Before cooking, rinse with water and drained.
How to cut bok choy? It's very simple. First of all, use a vegetable knife to chop 1-inch off the bottom part of the stem. Cut the stems and green leaves into bite-sized pieces or slice them lengthwise.
Ingredients for Baby Bok Choy Recipe
This recipe calls for the following ingredients:
Vegetable oil.
Minced garlic.
Salt is the only seasoning you'll need.
Is It Healthy?
Yes, it is a very healthy vegetables with lots of fiber and water in the leafs and stems. In fact, 95% of the vegetable is water and only 1% fat. It's also a rich source of vitamin C, vitamin A and minerals. This recipe is only 81 calories per serving.
What Dishes to Serve with This Recipe?
This recipe is best served with a main dish. Make any Asian chicken recipes to go with it. For a wholesome meal and easy weeknight dinner, I recommend the following recipes.
How Many Calories per Serving?
This recipe is only 81 calories per serving.
What Dishes to Serve with This Recipe?
For a wholesome meal and easy weeknight dinner, I recommend the following recipes.
Garlic Bok Choy
Bok Choy stir fry with garlic is an easy and healthy recipe that takes only 10 mins to make from prep to dinner table. It calls for only 3 simple ingredients.
Ingredients
1

tablespoon

oil

3

cloves

garlic

minced

8

oz.

baby bok choy, rinsed and drained

1/4

teaspoon

salt or to taste
Click Here for Conversion Tool
Directions
How to Clean Bok Choy:
You can clean bok choy by rinsing the vegetables with cold running water. Make sure you rinse the insides of the bok choy as dirt and sands might be trapped inside. You can also soak the bok choy in cold water for 5 minutes before draining. Use a colander to drain the excess water before preparing the bok choy.
How to Cut Bok Choy:
Cut 1-inch off the bottom part of the stems. You can pull off the leaves. If the leaves are bigger, you can cut into halves or chop into pieces.

If you have baby bok choy, just trim off the bottom part of the stems. You don't have to cut or chop them since they are small in size.

If you have regular bok choy that is big, you can chop the stems and leafy part into bite-sized pieces.
How to Stir Fy Bok Choy:
Heat up a wok, pan or skillet on high heat. Add the oil and when the oil is heated, add the garlic and stir-fry until aromatic.

Add the bok choy and quickly stir-fry for a few times before adding the salt. Quickly stir-fry a few times, turn off the heat, dish out and serve immediately.
Nutrition Facts
Garlic Bok Choy
Amount Per Serving (2 people)
Calories 81
Calories from Fat 63
% Daily Value*
Fat 7g11%
Sodium 365mg16%
Carbohydrates 3g1%
Protein 1g2%
* Percent Daily Values are based on a 2000 calorie diet.