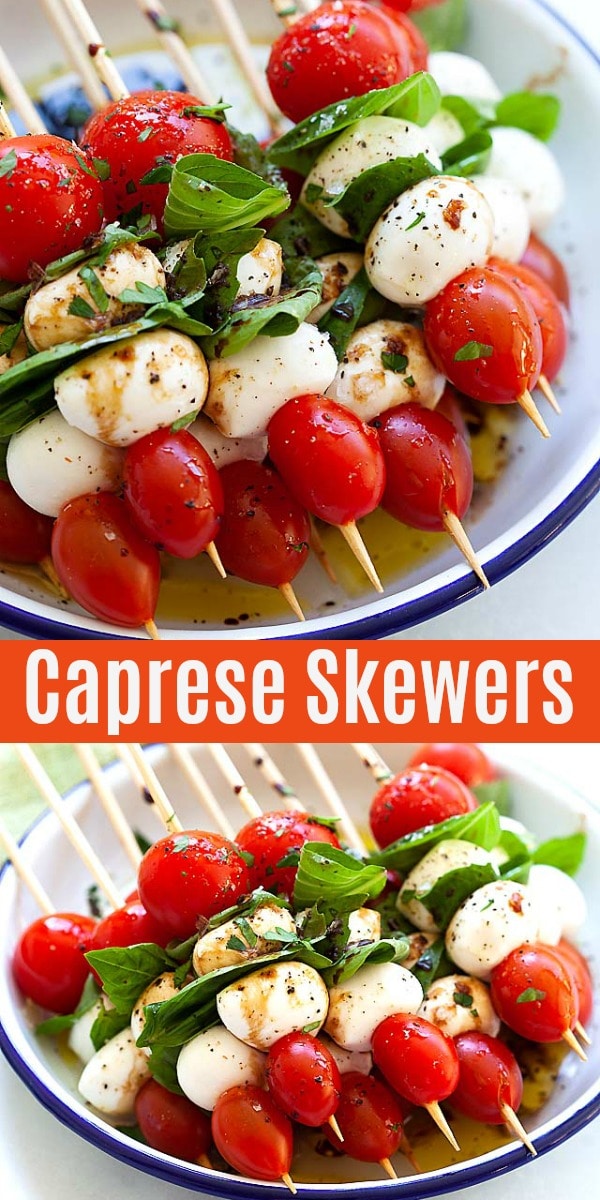 What Are Caprese Skewers?
These caprese skewers are the best salad ever, made on sticks! They make for the perfect appetizer for any party, and are so easily portable as well.
If every salad is as delicious as these caprese salad sticks, everyone will be happily eating salad every day!
Caprese Salad Recipe
The traditional Caprese salad uses sweet and juicy cherry tomatoes and grape tomatoes, mini mozzarella balls, and fresh Italian basil leaves.
Then, you drizzle on extra virgin olive oil and balsamic vinegar, and top with salt and ground black pepper.
To sum up, the recipe is so easy and with no cooking involved. You can prepare these sticks in 10 minutes!
Ingredients for Caprese Skewers
Caprese skewers call for the simple ingredients below:
Cherry tomatoes
Grape tomatoes
Mini mozzarella balls, cherry size
Fresh Italian basil leaves
Extra virgin olive oil
Balsamic vinegar
Salt and ground black pepper
The Origin of Caprese
Called Insalata Caprese in Italian, its name literally translates to salad of Capri, so it is thought to be originated from the island.
The colors of Italian flag are represented in this dish: green, white and red, just like Pizza Margherita.
Frequently Asked Questions
How Do You Pronounce Caprese Salad?
In English, "caprese" is pronounced /kəˈpɹeɪzi/ (or kuh-PRAY-zee).
Can You Grill Caprese Skewers?
Yes, you can certainly grill the skewers if you like. Brush the skewers with olive oil and season with salt and pepper.
For the best result, grill for quick 30 seconds, then turn over and grill the other side until slightly charred. Drizzle the balsamic vinegar after grilling.
How Many Calories per Serving?
This recipe is only 76 calories per serving.
What to Serve with This Recipe?
Serve this dish with protein or main dish. For a healthy meal or party/entertaining, I recommend the following recipes.

Caprese Skewers
Caprese Skewers - healthy and delicious caprese salad threaded on bamboo skewers with fresh cherry and grape tomatoes, Italian basil and mozzarella balls, with olive oil and balsamic vinegar.
Ingredients
12

cherry tomatoes

12

fresh mozzarella balls

1/3 oz. cherry size (BelGioioso All-Natural Cheese Fresh Mozzarella Ciliegine)

12

large fresh basil leaves

12

grape tomatoes

extra-virgin olive oil

for drizzling

balsamic vinegar

for drizzling

salt and freshly ground pepper
Click Here for Conversion Tool
Directions
Thread 1 cherry tomato, 2 mozzarella balls, 2 basil leaves and 1 grape tomato on a wooden or bamboo skewer or toothpick. Repeat to make the remaining skewers.

Arrange the skewers on a platter and drizzle with the olive oil, follow by balsamic vinegar. Season generously with salt and pepper and serve. The skewers may be covered and refrigerated for up to 2 hours; serve chilled or at room temperature.

Recipe Notes
Adapted from Williams-Sonoma Food Made Fast Series, Small Plates, by Brigit Binns (Oxmoor House, 2007).
Nutrition Facts
Caprese Skewers
Amount Per Serving (12 skewers)
Calories 76
Calories from Fat 54
% Daily Value*
Fat 6g9%
Cholesterol 10mg3%
Sodium 23mg1%
Carbohydrates 1g0%
Protein 5g10%
* Percent Daily Values are based on a 2000 calorie diet.