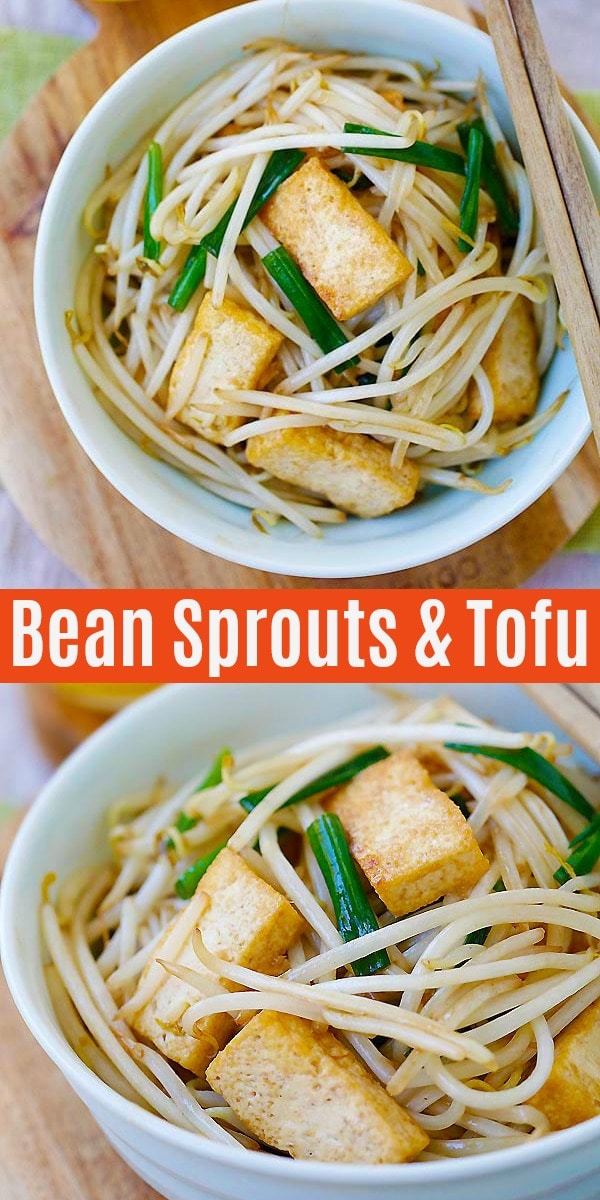 Bean Sprouts
What are bean sprouts?
They are called mung bean sprouts and a type of vegetable that is healthy, vegan and vegetarian friendly.
They are very easy to grow at home. To sprout mung beans, you will need a container or a can. They only need water to grow.
They are one of my favorite vegetables.
I cook them in a variety of recipes, for examples: Chow Mein, Pad Thai, shrimp fritters and more.
Other Recipes You Might Like
Bean Sprouts Nutrition
This vegetable has many health benefits with lots of nutrients such as vitamins and minerals.
It is cholesterol free and good for you.
It is commonly used in Asian recipes, for examples: noodles, stir-fries and vegetarian dishes.
The crunchy texture and refreshing, clean good taste are pleasing.
How to Cook Bean Sprouts?
This recipe is very easy to make at home. It calls for a few simple ingredients:
Tofu
Garlic
Soy sauce
Scallion
If you want authentic flavors, you can add salted fish to this Chinese dish.
They take seconds to cook in a hot skillet or wok. As soon as they are slightly wilted, they are done.
DO NOT overcook or they will become limpy and lose the crunchy texture.
Frequently Asked Questions
Can I Eat Them Raw?
Yes, they are edible fresh and raw. You can use them in salad raw. They are crunchy.
However, when they are raw, they are a rawness earthy taste.
Are They Carb Free?
They are extremely low in carb and almost zero. Each tablespoon is only 0.1 g carb.
Are They Keto?
Yes, they are keto friendly since they are almost carb free.
How Many Calories per Serving?
This recipe is only 104 calories per serving.
What to Serve with This Recipe?
Serve this dish with steamed rice, fried rice or porridge. For a Chinese meal and easy weeknight dinner, I recommend the following recipes.

Bean Sprouts with Tofu Recipe
Bean sprouts is a healthy vegetable. This bean sprout recipe with tofu is vegan and vegetarian friendly. Easy to cook and goes well with everything!
Ingredients
8

oz.

bean sprouts

1

piece

firm tofu

cut into rectangle pieces

Oil

for pan-frying

1

tablespoon

oil

1-2

cloves

garlic

minced

1

tablespoon

soy sauce

1

stalk

scallion

cut into 2-inch lengths
Click Here for Conversion Tool
Directions
Rinse the bean sprouts with cold running water, drained and set aside. Remove the roots if you desire.

Heat up a wok and add some cooking oil for pan-frying the tofu. When the oil is fully heated, pan-fry the tofu until they turn light brown on the surface. Transfer them to a dish lined with paper towels.

Leave about 1 tablespoon of oil in the same wok, stir-fry the garlic until aromatic, then add the tofu back into the wok for a few quick stirs before adding the bean sprouts. Add soy sauce, scallions, and do a few more quick stirs. Dish out and serve immediately.
Recipe Notes
Bean sprouts should be crunchy and just cooked when served. Do not overcook bean sprouts as they lose the crisp and crunchy texture.
Nutrition Facts
Bean Sprouts with Tofu Recipe
Amount Per Serving (2 people)
Calories 104
Calories from Fat 63
% Daily Value*
Fat 7g11%
Sodium 511mg22%
Carbohydrates 8g3%
Protein 5g10%
* Percent Daily Values are based on a 2000 calorie diet.