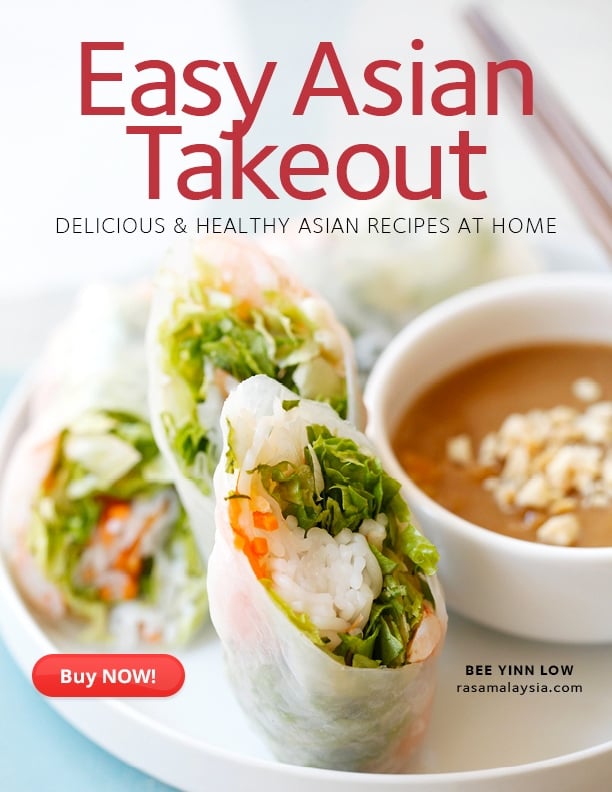 If you like to earn money without lifting much more than a finger, become my partner partner and sell my ebook on your site. To help spread the word about "Easy Asian Takeout: Delicious and Healthy Asian Recipes At Home", I'm offering an affiliate program where partners earn a 50% commission on every sale originated from your site, paid on the second week of every month via PayPal.
How to Get Started:
1. Sign up a free account at SendOwl to join Rasa Malaysia Affiliates. Click the line of text that reads "click to see affiliate links."
2. Recommend "Easy Asian Takeout" ebook on your site by using your unique Site Link provided by SendOwl. You can use the cover image above and the sales description below on your page.
3. It might be helpful to review the eBook if you want to recommend from your own experience. I can provide a sample recipe and photos from the eBook.
4. If you need additional graphics, images or additional information for your blog, please contact me at bee@rasamalaysia.com.
About Easy Asian Takeout:
Easy Asian Takeout is the second cookbook by top food blogger and best-selling cookbook author Bee Yinn Low at RasaMalaysia.com. Easy Asian Takeout offers 35 delicious and healthy Asian recipes, 108 color photos, a comprehensive ingredients chapter, and features a collection of popular Asian takeout: Sesame Chicken, Summer Rolls, Tandoori Chicken, Pad Kee Mao (Thai Drunken Noodles), Pad Thai, Tom Yum Soup, Singapore Fried Noodles, Mongolian Beef and so much more. For more detailed information, please check out the sales page here.